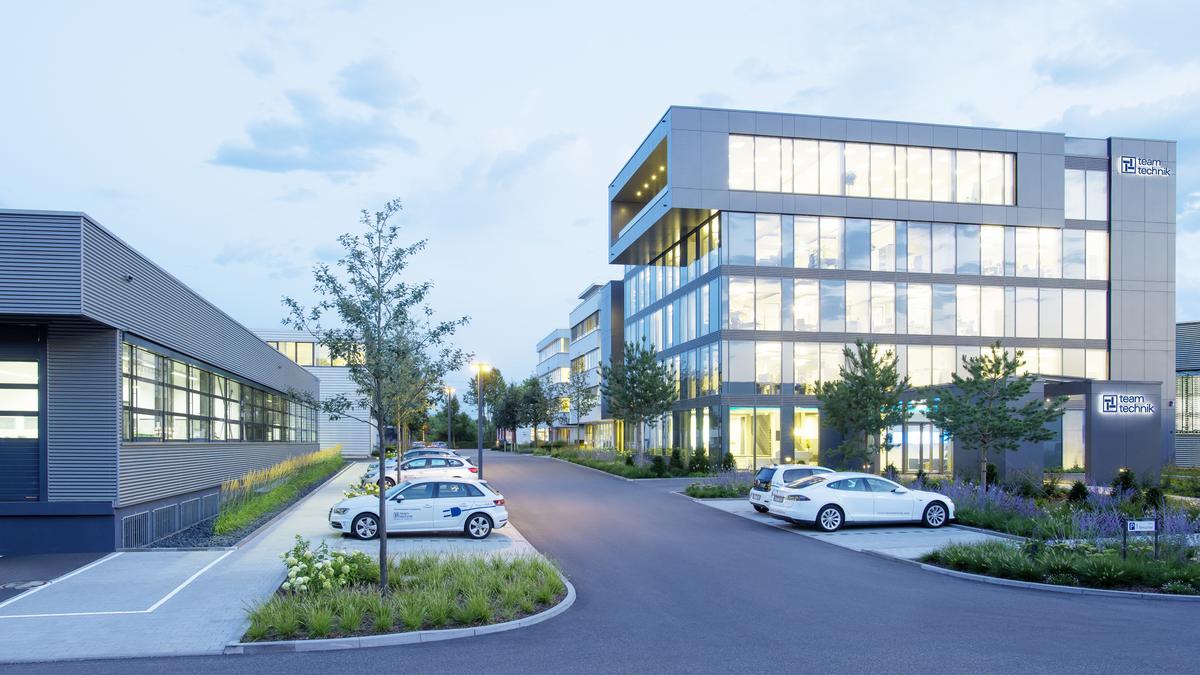 This anniversary was also an appropriate occasion for the completion of the company's new office building. teamtechnik continues to grow: having already erected new production halls in recent years, teamtechnik has now invested €8 million in a new office building. Highly-qualified engineering staff and other employees will work here at high-tech workstations. With 2,600 square meters of floor space, the building will serve as the future headquarters for customers and partners from all over the world. Visitors will be able to admire the modern architecture of the building as soon as they enter the foyer.

From locally-based custom machine builder to global player
A spirit of innovation and a clever mix of industries have taken the Freiberg-based family business to become a global leader in system production. Today, teamtechnik is Germany's largest owner-managed company in the industry.

Testing and assembly systems from a single source – the success story of teamtechnik Group began with this unique selling point 40 years ago, and it remains true today. In 1976, Max Rosskopf and three of his former colleagues set up their own business with a design office specializing in machine tool construction. By the 1990s, however, the company had moved to the standardization and modularization of assembly lines. This enabled systems to be flexibly adapted to production variations and to changes in batch size – something that was entirely new in this industry, in which the norm had been to build new, specialized machines for each variation required. On the basis of the experience gained with its own assembly and test lines, teamtechnik developed the first modular production system based on stations in 1990. By 1997, this expertise had matured into a finished product, the TEAMOS assembly platform, which is still a success today. The first modular test systems, for manual transmissions used in light vehicles, followed in 1999.

Six subsidiaries and 15 service locations around the world
In 2001, Max Rosskopf's son, Stefan, took over the teamtechnik business and laid the foundations for the company's future-oriented development. By adopting a policy of internationalization and diversification, Stefan Rosskopf, himself an experienced automation engineer, set the company on a new course towards success. By 1998, teamtechnik had made the leap across the Atlantic, establishing teamtechnik Corporation in Atlanta, GA. This was followed by a production site in Poland in 2005 and expansion into Asia with two Chinese subsidiaries in 2010. Today, the company group exports about 70 percent of its products.

A strategy based on 3 pillars: Automotive, Medtech and Solar
Stefan Rosskopf's aim has always been for teamtechnik to remain unaffected by the volatility of the automotive market. For this reason, the company built its first systems for medical products in the mid-1990s and in 1998 it won a major contract for 25 production systems for daily disposable contact lenses, in the US. The company had successfully entered the medical technology market. Today, teamtechnik offers extensive expertise to cover all aspects of demanding production processes. The company is one of the trailblazers of the medtech sector, with high-precision assembly and testing systems, including for the sensitive field of point-of-care diagnosis. The company's third mainstay was established with its entry into solar technology in 2004. teamtechnik quickly gained a clear competitive advantage with its fast-cycling production systems and outstanding product quality, and by 2011 the company was the global leader in the stringer technology segment. With what is now its seventh generation of stringer systems, teamtechnik has meanwhile become the uncontested technology leader, particularly compared with its Asian competitors.
 
Assembly and testing systems for e-mobility
Thanks to business growth in the Far East since 2014, teamtechnik now holds the largest market share in the world for transmission test equipment – including for electromobility. Recently, the company was awarded a major contract for a testing area for electric drive units. In 2011, Ludwigsburg-based Pfuderer GmbH joined teamtechnik Group, bringing with it its expertise in cam-driven assembly lines with fast cycle times. This has enabled teamtechnik to offer a comprehensive system portfolio, 'From low to high speed', with speeds of up to 120 cycles per minute. The subsidiary, now operating under the name teamtechnik Automation GmbH, has now also evolved into a center of excellence for feeder technology. Solutions are being developed there for feeder systems that will secure the high-speed potential of teamtechnik production systems – a clever move indeed.

Sustainability and technological acceleration
teamtechnik intends to help shape the future, defined as it is by the megatrends of sustainability and technological acceleration – by focusing on solutions and with an intercultural team that loves innovation. It is therefore investing more heavily than ever in building standardized systems and expanding its in-house software skills. The company's in-house guideline says: Always staying ahead of the competition by offering ever more intelligent solutions. Today, teamtechnik is Germany's largest owner-managed company in the industry. And, in Stefan Rosskopf's view, this should remain the case: "Our independence is a significant competitive advantage. For our customers it means reliability, continuity and, above all, quick decision processes."