In the sector of battery module assembly for round cells, teamtechnik continues to consolidate its strong market position. With a follow-up order for eight more battery module assembly lines, German battery manufacturer BMZ has increased its overall order to a total of 13 lines. This strengthens the successful cooperation between the two companies. With a volume in the upper single-digit millions range, the order is based on the collaboration that began 2021. It will strengthen the close cooperation between the two companies and confirms teamtechnik's battery production technology portfolio.
The eight assembly lines for battery modules for home storage applications will be equipped with functional tests like visual inspection and various electrical tests. On a footprint of just 12 x 6 m per machine, up to 7200 cells are moved in one hour at an autonomy of up to 60 minutes. Even the cell holders are placed on the workpiece carriers fully automatically. From the individual cells through to the fully assembled "core pack," the teamtechnik lines map all relevant process steps.
Battery production technology for round cells prevails
With its standard product portfolio for the production of battery modules from round cells, teamtechnik has established itself in the market in recent years. Demand for automation solutions for module and cell production of 18650, 21700 and 46X round-cell formats is correspondingly high.
teamtechnik has also succeeded in further developing a platform for EOL cell packaging. This includes all production steps following formation and aging to packing the battery cells into cartons.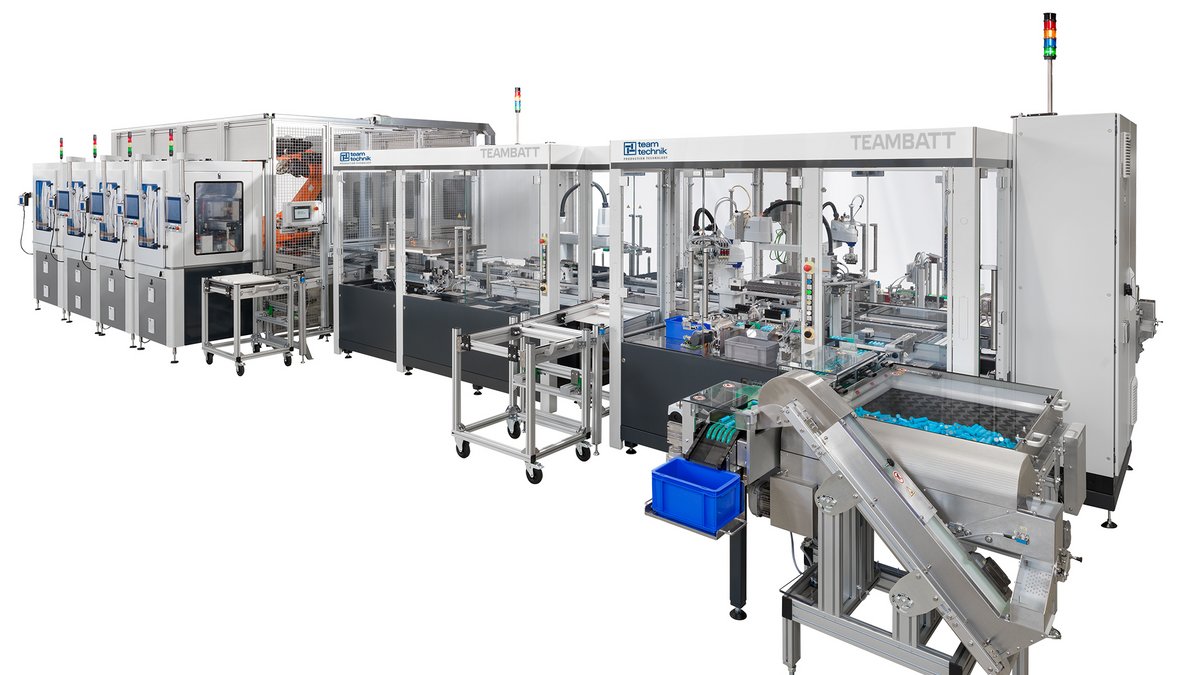 Company profiles
teamtechnik

Group
Part of the Dürr Group, teamtechnik Group is an international market leader for production technology, assembly and functional test systems. The company based in Freiberg, Germany focuses on developing and building custom automation solutions for the e-mobility, medtech and new energy sectors. Its high level of expertise in the fields of software and control technology is a proven strength. teamtechnik was founded in 1976 and today has production sites worldwide.
BMZ Group
The BMZ Group is a global player in the development and production of lithium-ion system solutions that cross industry boundaries. It offers the entire value chain, from the cell and accumulator to second life and disposal. In addition to supplying the medical, power tools and garden tools markets, for example, and industrial applications, the BMZ Group identifies itself above all as THE GREEN ENERGY SYSTEM PROVIDER. In manufacturing home and industrial storage solutions for photovoltaic systems and batteries for electromobility, BMZ produces the core component of the infrastructure required for the energy and mobility revolution. In view of the threat of climate change and its consequences, the BMZ Group is committed to its social, economic and environmental responsibilities. The Group has its headquarters in Germany and maintains additional production facilities in China, Poland and the USA, as well as subsidiaries in Japan, the UK and France. There are also various research and development sites worldwide. More than 1800 employees work for the BMZ Group.
BMZ opts again for battery module assembly lines from
teamtechnik
PDF / 187.11 kB
BMZ opts again for battery module assembly lines from teamtechnik
PDF / 187.11 kB