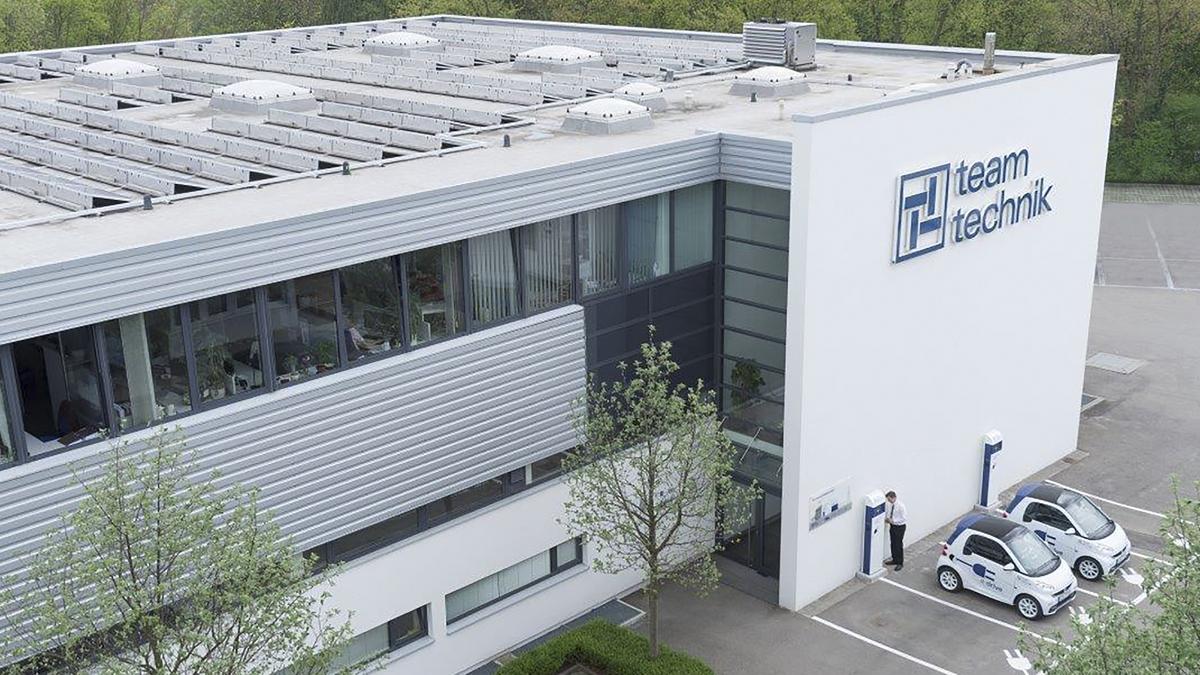 "With the solar-powered electric charging station, we wanted to show how e-mobility can be integrated into company workflows and thus to increase trust in electric vehicles. In 2013, the general public didn't have much trust," recalls teamtechnik CEO Stefan Rosskopf. He explains that there were three solar charging stations in Germany at that time. Back then, teamtechnik had already brought production systems for the photovoltaics industry and for the drive train in electric cars to life. Rosskopf continues, "Our electric charging station demonstrated sustainable interaction between the generation, storage, and use of power. We committed ourselves to this idea of climate-friendly mobility."
Yesterday it was visionary and today it is part of everyday life, as the increasing number of electric vehicles and charging stations shows.
Lighthouse project for green energy
The innovative aspect of the first solar charging station in Freiberg was its complete independence from the city power grid. A high-capacity battery stored the energy generated by the photovoltaic system and supplied the four charging points on the company premises in Freiberg, continuously and regardless of weather conditions. With two company-owned electric vehicles, teamtechnik had taken its first step into the brand new world of sustainable mobility. Rosskopf adds, "Electromobility as a business segment was a stand-alone solution for teamtechnik a decade ago. Today, we are the market leader in end-of-line testing for the e-drives used in electric vehicles."
Investment in climate protection
The ten-fold increase in the number of charging points at teamtechnik is not the only growth that has occurred since then. teamtechnik has a goal of reducing its carbon emissions by 70% by the year 2030. In doing so, the assembly system manufacturer is following the strategy of the Dürr Group, which teamtechnik joined several years ago. Dürr aims to have achieved carbon neutrality across the entire Group by 2050. teamtechnik already runs on 100% green electricity. The photovoltaic systems on the roofs of the production halls generate over 450,000 kWh annually. The company's vehicle fleet now comprises around 20 hybrid and electric vehicles. teamtechnik plans to reduce its greenhouse gas emissions even further through building improvements and energy-efficient lighting and heating. Rosskopf continues, "Instead of paying to offset our emissions, we are investing in climate-friendly technologies to further reduce our greenhouse gas emissions."
Production technology for hydrogen fuel cells
teamtechnik production systems make electromobility possible and enable the generation and storage of solar power from sunlight. In this way, according to the EU taxonomy, 48% of company revenue is already classified as "green." And we have already taken the next step. As part of a research project by the state of Baden-Württemberg, teamtechnik is working on production technology for the series production of hydrogen fuel cells. The system developer presented its current offering in the battery production technology and solar technology sectors at two trade fairs this year: Battery Show Europe in Stuttgart and The smarter E in Munich.